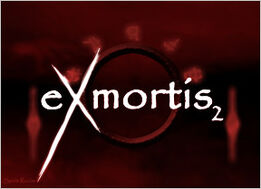 Exmortis II
is an adventure/horror point and click game sequel created by
Ben Leffler
.
The Cult of Exmortis has suceeded in taking over the world and nearly destroying humanity itself.
Exmortis II follows one of the last survivors, Mr. Hannay, who, following the words of an unknown entity at the resistance safe house, attempts to destroy the Cult of Exmortis once and for all.
Ad blocker interference detected!
Wikia is a free-to-use site that makes money from advertising. We have a modified experience for viewers using ad blockers

Wikia is not accessible if you've made further modifications. Remove the custom ad blocker rule(s) and the page will load as expected.